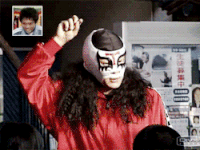 Dynamite Shikoku is a pro-wrestler character portrayed by Endō Shōzō. First appearing in Yamasaki vs Moriman fighting his arch-enemy Escargot Man, he has made appearances in a Gaki no Tsukai episode[1] where the members try to get closer to his true character by visiting his hometown, and most famously in the No Laughing in Yugawara Batsu Game, tormenting and exacting the most slaps out of Tanaka.
Character
Edit
tbd
Appearances
Edit
tbd
References
Edit
Ad blocker interference detected!
Wikia is a free-to-use site that makes money from advertising. We have a modified experience for viewers using ad blockers

Wikia is not accessible if you've made further modifications. Remove the custom ad blocker rule(s) and the page will load as expected.