Hanako
(山田花子
Yamada Hanako
)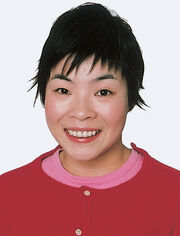 A strange girl who often tries to talk to the cast (much to their dismay) during the No-Laughing games. She often lures them into mistakenly talking to her (such as calling them to her bathroom in the No-Laughing High School game or making them open a car, only to find her terribly drunk and lingering in the back seat in the No-Laughing Police Station game) and will latch onto some part of their body when the victim tries to leave. Her years as a c omedienne are often used as a running gag whenever she encounters Endō, as she has been in the entertainment business for a longer period of time.
Ad blocker interference detected!
Wikia is a free-to-use site that makes money from advertising. We have a modified experience for viewers using ad blockers

Wikia is not accessible if you've made further modifications. Remove the custom ad blocker rule(s) and the page will load as expected.