Itsuji Itao (板尾創路, born July 18, 1963), is a Japanese comedian and actor. He is a member of the comedy duo 130R and former cast member of one of Downtown's previous shows. Usually appears in their batsu games.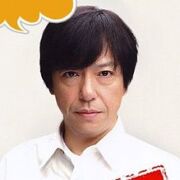 Profile Name: Itsuji Itao (板尾創路, Itao Itsuji)
Birth date: July 18th, 1963
Birthplace: Tondabayashi, Osaka Prefecture, Japan
Blood type: A
Height: 5' 9" (175 cm)
Status: Married
Filmography
Edit
Movies
[2001] Desert Moon...Interviewer
[2002] The Blessing Bell...Prisoner
[2003] 9 Souls
[2003] Josee, the Tiger and the Fish...The Manager
[2004] Space Police
[2005] Cromartie High: The Movie...Masked Takenouchi, also screenwriter
[2005] Yaji and Kita: The Midnight Pilgrims...Naniwa Hotto
[2005] Hanging Garden...Takashi Kyobashi
[2005] The Great Yokai War
[2005] Masked Rider: The First
[2006] One Missed Call: Final...Mr. Kibe, teacher
[2006] Ghost Train
[2006] Death Note: The Last Name...Hikima
[2007] Pile Driver
[2007] Tokyo Tower: Mom and Me, and Sometimes Dad
[2007] Dai Nipponjin...Female Niounojyuu
[2007] Grow
[2007] Erotic Rampo: Ningen-isu
[2007] Negative Happy Chainsaw Edge
[2008] Tokyo Gore Police
[2008] Tamami: The Baby's Curse
[2008] Love Exposure
[2009] Onnanoko Monogatari
[2014] Kamen Rider Taisen
Television
[2006] Imo Tako Nankin...Kozo Ikeuchi
Ad blocker interference detected!
Wikia is a free-to-use site that makes money from advertising. We have a modified experience for viewers using ad blockers

Wikia is not accessible if you've made further modifications. Remove the custom ad blocker rule(s) and the page will load as expected.