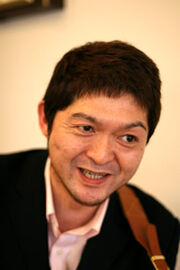 Matsumoto Takahiro (Japanese: 松本隆博 ) is the older brother to Matsumoto Hitoshi. He makes occasional appearances in Downtown no Gaki no Tsukai ya Arahende!!, almost always singing and playing guitar despite his low skill in both due to the fact that he shares his name with guitarist Takahiro Matsumoto of the popular rock band B'z.
In the Hospital Batsu Game, Hitoshi Matsumoto finds a fake book in his drawer written by his brother, titled "Hitoshi, Do You Remember These?"
Appearances
Edit
Ad blocker interference detected!
Wikia is a free-to-use site that makes money from advertising. We have a modified experience for viewers using ad blockers

Wikia is not accessible if you've made further modifications. Remove the custom ad blocker rule(s) and the page will load as expected.