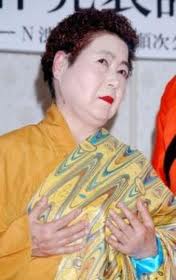 Obachan Ichigo (おばちゃん一号, literally Old Lady #1, also known as "Hip-shaking Obachan") (real name Asami Chiyoko) - an elderly women who often appear in the batsu games, dressed in strange outfits (on one occasion they dressed as t.A.T.u.) or getting the cast into compromising positions. A running gag is that of cast members being forced to French kiss Obachan Ichigo.
List of appearances
Edit
this list is incomplete. please help expand it!
Shichi Henge - "Hip-shaking Obachan" (1997)

As Darth Vader, who enters the room and kisses Hamada.
As a punishment for incorrectly guessing which soup they had tasted.
Together with Obachan Sango, act as police officers that stop the school bus for improper parking.

No-Laughing Hospital 2007

As a trap in an MRI scanning machine, which pushes the victim's face against hers, resulting in a kiss.

No-Laughing Prison 2014

In the Onigokko segment, appears in Matsumoto's cell when an incorrect key is used and French-kissing him.
ditto
Ad blocker interference detected!
Wikia is a free-to-use site that makes money from advertising. We have a modified experience for viewers using ad blockers

Wikia is not accessible if you've made further modifications. Remove the custom ad blocker rule(s) and the page will load as expected.